Recently, some media reported that during the Spring Festival, the price of hotels in Macau was twice or three times that of usual. Starting from February 2nd, the Macau Tourism Bureau teamed up with the tourism bureaus of Guangdong and Fujian provinces to launch the "Spring Festival Golden Week Tourism Notification Mechanism" to disclose relevant tourist information, to facilitate visitors to keep up to date with the latest information, and to prevent hotels from maliciously raising prices.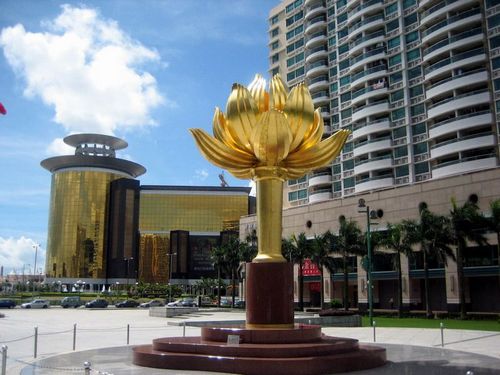 Macau Golden Lotus Square
The information provided by the Macau Tourism Bureau will include the number of inbound tourists, accommodation and hotel prices from the previous day, information on hotel price indicators and booking rates, apartment price indicators, etc. for the next five days. These tourist information will also be transmitted to Guangdong and In the tourism departments of the two provinces of Fujian, the Macau Tourism Bureau also encourages visitors to Macau to compare the prices of different hotels before they travel to Macau.
The Macao media recently paid attention to the sharp rise in the price of hotel rooms in Macau during the Spring Festival. It is reported that some hotel prices in Macau are between 2 and 3 times the price from the first to the third day. Some hotel prices may even be Usually 5 times. According to the Tourism Bureau, there are now two- to five-star hotels in Macau. The types of hotel rooms vary, and the prices of various rooms vary. However, since hotel prices are market economic behaviors rather than legal acts, the government generally does not interfere with hotels. Market operation.
Previously, in order to crack down on the hotel's malicious price increase, the Macau Tourism Bureau had requested the hotel to report the Spring Festival house price at the beginning of the year. If the hotel price is higher than the reported price during the Spring Festival, the hotel will be asked to explain the reasons and may be fined.
In the past, the Macau Tourism Board and the hotels across Macau have established a fixed mechanism. When the hotel is opened and renewed every year, the price of all types of rooms must be reported to the Tourism Bureau, which is recorded by the Tourism Bureau. Due to the cooperation mode between some travel agencies and hotels, it may also cause some travel agencies to hoard rooms in the peak season to raise prices. In response, the Tourism Bureau said that if there is any evidence to prove that the travel agency will raise the house price by hoarding the room, it will be handed over to the police according to the current Macao law. (International Online)
Hair Extension Tools,Hair Extensions Pliers,Micro Ring Hair Pliers,Mini Hair Pliers
Jinan Vogue Hair Products Co., LTD , https://www.voguehairfactory.com