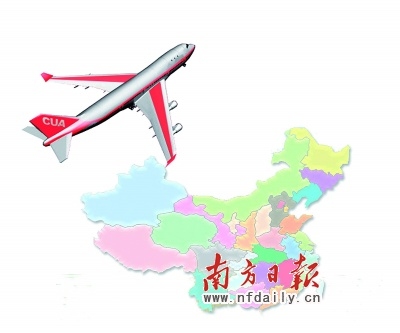 After the flight of Foshan Airport was suspended for 7 years, it resumed navigation on November 18. This small step taken by the smallest airport in China today may mean an important milestone for the economic and social development of other cities in the Pearl River Delta in Foshan's entire city and even Foshan's economic circle.
There are flights only 3 days a week, only 1 flight a day, a total of only one route -- to the capital Beijing, this is the status quo of Foshan Airport; but this is only subject to certain objective conditions. Wang Weijun, deputy general manager of China United Airlines Co. Ltd. (China United Airlines Co. Ltd.), clearly stated that after the flight of Foshan Airport, it will form a small triangle with the Changzhou base in Beijing and the Yangtze River Delta. Foshan is the base of China United Airlines in the Pearl River Delta. Under such strategic planning, it is expected that the next year will be opened in East China, especially Shanghai, Hangzhou, Changzhou, Wuxi and other popular routes. In other words, China United Airlines has set its development vision on the "small triangle" (ie Beijing South) that echoes the traditional "big triangle" route (the triangle route formed by the three main bases of Beijing, Shanghai and Guangzhou). The layout of the small triangle route formed by Yuan, Changzhou and Foshan). There are already many airports in Guangdong, Baiyun Airport, Shenzhen Airport, Zhuhai Airport, Shantou Airport, etc., as well as Hong Kong's Chek Lap Kok International Airport, Macau Airport, etc. How does Foshan Airport intervene in competition? The positioning of the "small triangle" tells us very clearly.
Some people may also have to raise doubts. Guangfo's urbanization is not clearly written into the "Pearl River Delta Planning Outline" and has been gradually promoted. Does Guangzhou already have a Baiyun International Airport? Why do Foshan have to start another stove? This problem is not difficult to understand.
Just as Guangzhou and Foshan's urbanization emphasizes that in the process of cooperation between Guangzhou and Foshan, the implementation of misalignment and complementary advantages in urban positioning and industrial allocation is the same as the resumption of flight at Foshan Airport: there is no level between the two. On the one hand, Foshan Shadi Airport will relieve the passenger flow pressure of Guangzhou Baiyun Airport to a certain extent, and it will play a very good role in supplementing and supplementing Baiyun Airport; importantly, Foshan Airport and Baiyun Airport The formation is also benign and complementary, dislocation competition. To put it another way, the resumption of civil aviation at Foshan Airport is not to take a share of the lucrative hot routes, but to "pick up the gaps" and find a living space in the gap of full service. Taking this as an opportunity, Foshan Airport is expected to contribute to optimizing the air transport structure of the Pearl River Delta and promoting the development of civil aviation in Guangdong. Guangfo's urbanization turned out to be born, and the expectation is to become a breakthrough in the integration of the Pearl River Delta. Then, the return of civil aviation at Foshan Airport will provide positive demonstration significance and reference for other parts of the country.
Foshan's economy is developed and air transportation demand is large. The return of Foshan Airport will promote the coordinated development of trunk and regional aviation in the region, and also facilitate the travel of surrounding passengers. This is something everyone can foresee. In contrast, Foshan Mayor Chen Yunxian's vision is more unique. He emphasizes that the airport's functions are more diversified, and he hopes that Foshan Airport will be able to take off and move private business flights in the future. Chen Yunxian said that Foshan's business guests are active and now have More than 40 Fortune 500 companies have invested in more than 80 projects. Their customers are located all over the world. If Foshan Airport can take off and land private business aircraft, it will play a more active role in improving the economic environment of Foshan. Business jets have not been resolved due to customs clearance problems, but they are still not available, but Xu Yimin, general manager of Foshan Airport, said that it will work hard in this direction to meet market demand. Even if it can stop domestic private business aircraft, Foshan Airport has really made up for it. A blank in the Guangzhou Baiyun Airport business.
There is no doubt that the resumption of civil aviation at Foshan Airport will increase the visibility of Foshan in China. On the one hand, Foshan is confident that in the near future, on the basis of the small triangle route, the Foshan route will be turned into a fine shipping line. On the other hand, Foshan also has the confidence to open up market demand to the greatest extent. These confidences are based on the accurate judgment and grasp of market demand and may be turned into reality. The role of Foshan Airport is worth looking forward to.
(The author is a senior media person and columnist)
0 recommended list
("Southern Metropolis Daily", /* <![CDATA[*/ CPLM.Report.print("reprint"); /*]]> */ )
America Canada lane is also called North America lane. It includes Canada and America and these two countries ride across the Atlantic Ocean and Pacific Ocean. This lane can be divided as East America (Atlantic Ocean) lane/West America (Pacific Ocean) lane.
Main ports in West America lane:
Los Angeles; Long Beach; Oakland; Seattle; San Francisco; Tacoma; Vancouver;
Main ports in East America lane:
New York; Norfolk; Savannah; Newark; Charleston; Miami; Toronto; Montreal
Main Carriers:
MSC;CHINA SHIPPING; HPL; WAN HAI; ZIM; MAERSK; COSCO; EMC; LT; APL; HYUNDAI; HANJIN;
Sea Freight To America,Sea Freight To Canada,Ocean Freight To America,Ocean Freight To Canada
Shenzhen Goglobal Int'l Logistics Co., Ltd. , http://www.cngoglobal.com